Canal Cheong-Jagerroos (張 彤 茹) / Visual Artist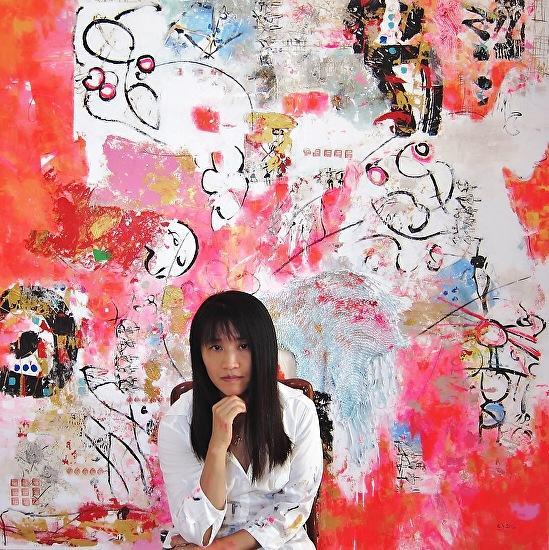 Canal Cheong Jagerroos (b.1968) is a Chinese contemporary visual artist who grew up in an artistic family in Macau. She works between Helsinki, Nice and Berlin.
As far back as Canal can remember, at the time other children her age were playing with crayons, her father taught her the fundamentals of Chinese ink brush painting. In many ways, Canal's father teaching has strongly influenced her journey to find artistic expression.
Canal has lived and worked for 25 years in numerous countries from Asia to Europe and Africa. She is currently living with her family in Finland. The unique experience of having lived in such culturally diverse places, namely; Hong Kong, Shanghai, France, Switzerland, Italy, Senegal and Finland has influenced her work greatly whether consciously or subconsciously. Canal has discovered that walking the line between the east and west, facing different cultures, can be both constructive and destructive, but always inspirational.
Canal Cheong Jagerroos is the co-founder of the ongoing art project 'Blue and Red' which will be showing in numerous museums in China and Finland from 2018 - 2020.
Upcoming Exhibitions:
2019 Context Miami
2018 LA Art Show, Los Angeles, USA
2018 Xian Art Museum, Xian, B&RAP, China
2018 Context New York, New York, USA
2018 Tang Bo Art Museum, B&RAP, Xian, China
2018 Salo Art Museum, B&RAP, Finland
2019 Jyvaskyla Art Museum, B&RAP, Finland
2019 Chengdu Art Museum-Blue Roof, B&RAP, Chengdu, China
2019 Joensuu Art Museum, B&RAP, Finland
2020 Rovaniemi / Korundi Art Museum, B&RAP, Finland

Solo and Selected Exhibitions:
2017 Tai Yuan Art Museum, Art Shangxi, China
2017 Hiap Selected Documentary Exhibition (Curated by Li Zhenhua, HK Art Basel Film Curator/Director)
2017 Finlayson Art Centre, B&RAP, Finland
2017 Artist In Residency, Beijing, China
2017 'Waking / 苏醒' Solo Exhibition, Being 3 Gallery, Beijing, China
2017 China-Italy Biennale, Shenzhen, China
2017 Dalian Contemporary Art Fair, Dalian, Liaodong Peninsula, China
2017 ICFF Miami Art and Design, Miami, USA
2017 Basel Art Center, B&RAP, Basel, Switzerland
2017 Art Miami Aqua, Miami, USA
2017 LA Art Show, Los Angeles, USA
2017 Art Palm Beach, Florida, USA
2017 Art Boca Raton, Florida, USA
2016 Scope Miami, Miami, USA
2016 Solo Exhibition 'Eternal Love' Tranter-Sinni Gallery, Miami, Florida, USA
2016 Spectrum Miami, Miami, USA
2016 Scope Basel, Basel, Switzerland
2016 Art Palm Beach Miami, Florida, USA
2016 Art Boca Raton / Boca Raton Museum of Art, Florida, USA
2016 Solo Exhibition 'Pure Affection II' Galeria de Arte, Estoril, Portugal
2016 ArtExpos NY, New York, USA
2016 縁. 市川市館, Chiba, Japan

Curatorial Exhibition Program, Helsinki, Finland
2015 Fade In! Fade Out!
2015 Under the Surface
2015 Half – Truth
2015 11 Dimension
2015 Graduated Students of Art School Helsinki
2015 Spectrum Miami, USA
2015 MAG Montreux Art Fair, Switzerland
2014 Solo exhibition 'Pure Affection' Rui Cunha Foundation, Macao, China
2014 Solo exhibition 'Infinity' A_C Gallery Helsinki, Finland
2013 55th Venice Biennale Art Exhibition 'Time.Space.Existence', Venice, Italy
2013 Gumbostrand Konst & Form Contemporary Art Auction, Finland
2013 Solo exhibition 'Royaume des Saisons' Galerie Geneviere Marty, Cannes, France
2013 Duel exhibition 'Seeking foe Inner-Self' Gallery NTG, London, UK
2012 Solo exhibition 'Selective Reality' Utställningssalongen Stockholm, Sweden
2012 Berliner Liste Inetrnational Contemporary Art, Berlin, Germany
2011 Solo exhibition Galleri Viktoria Göteborg, Sweden
2011 Selected Billnas Summer exhibition, Finland
2011 Selected Contemporary Art Exhibition, IWCR, France
2011 Selected exhibition 'Dreamscape' Onishi Gallery, New York, USA
2012 International Contemporary Art Fair (PAF), London, UK
2011 AAF, Milan, Italy
2010 Art Asia Miami, USA
2010 Solo exhibition 'Essence of A Girl' Gallery Karin Weber, Hong Kong, China
2010 Solo exhibition 'Carpe Diem' Galleria Uusitalo, Helsinki, Finland
2010 Selected International Group Exhibition, Eduard Vilde Museum, Tallinn Estonia
2010 Helsinki International Art Fair, Helsinki, Finland
2010 Billnas Summer exhibition, Finland
2010 Brussels Art Fair, Belgium
2009 Utrecht Contemporary art fair, Holland
2009 Eduard Vilde Museum, Tallinn, Estonia
2009 AAF London Art Fair, London, UK
2009 Selective exhibition Gallery JMA, Vienna, Austria
2009 Chelsea Art Fair, London, UK
2009 International Drawing Triennial Tallinn Estonia
2008 Selective exhibition Museum of America, Miami, US
2008 Lineart-Gent, Belgium
2008 Art Event Antwerp, Belgium
2008 Solo exhibiton 'A Silver Day' Galeria Viktoria, Göteborg, Sweden
2008 Solo exhibiton 'Realm of Solitude' Galleria Bulevardi 7, Helsinki, Finland
2008 Selective exhibition MIG Gallery, Hamburg Germany
2005 Solo exhibiton 'Callinf of the Blue' Anna Galleria, Helsinki, Finland
2004 Solo exhibiton Dak'art Biennale 2004, Dakar, Senegal
2004 Solo exhibiton DWG Sponsored Art Exhibition Dakar Senegal
2003 DWA Sponsored Art Exhibition, Dakar Senegal
2002 Solo exhibiton 'The Sound of Nature' Galleria Rottori Tribbio, Trieste, Italy
2001 Solo exhibiton Gallery Arrigo, Zurich, Switzerland
2001 Arte Trieste Collective Exhibition Trieste Italy
2000 Solo exhibiton Gallery Arrigo, Zurich Switzerland
2000 Galleria Rottori Tribbio Italy
1999 Solo exhibiton Gallery Sum Qui Sum, Strasbourg, France
1999 Galleria Rotto Trebbio Trieste Italy
1998 Solo exhibiton Gallery Arrigo, Zurich, Switzerland
1997 Gallery Strasbourg, Strasbourg, France
1996 Solo exhibiton Gallery Sum Qui Sum, Strasbourg, France
1996 Gallery Sum Qui Sum, Strasbourg, France
1989- 1995 Arte Society de Macau, china
1986 Macau Junior Art Exhibition, Macau, China

TV Interviews:
Chinese TDM TV Exclusive Interview Art and Culture 18/02/ 2014
Macau Portuguese TDM TV 'Montra do Lilau' 19/02/2014
Estonia ETV interview 2009 (Art connect people Eduard Vilde museum Tallinn)

Recent Article Reviews:
Chinese Daily 'Canal to Venice Biennale and Encyclopedic Palace of the World' 25/02/2014
Times 'Local-born artist auctions paintings to help renovate Chinese school' 19/02/2014
Portuguese Ponto / Culture 'Exposicao de Canal Cheong Jagerroos inaugural na sexta-feira' 19/02/2014
FrenchMedia, Le Petit Journal 'Dans Mes Peinture, mes racines sont toujours present' 06/03/2014
Macau Daily 'Pure Affection Press Conference' 19/02/2014
Hou Kong Daily 'Grand Opening of Canal Cheong Jagerroos Solo Exhibition' 19/02/2014
Jornal Tai Chung Pou 'Canal Cheong Jagerroos Bridge West and East' 19/02/2014
Macau Chinese Daily 'Canal Pure Affection Pursuing Artistic Dream' 11/03/2014
Guardian 'Two Artists find their inner-self' 2013 April. London
Helsingin Sanomat 'Kulttuuri 'Kalligrafi kohtaa Jackson Pollackin' 02/2010
HBL Hufvudstadsbladet 'Recension Konst 'Måleri i Kinesisk anda' 02/2010
Dak' Art Biennale - Le Temoin 'Une artiste chinoise sous le charme du bonheur simple de Senegal' 21/06/2004
Art & Culture - Le Soleil 'La peinture chinoise s'illustre' 06/6/2004
'Fin de la Biennale' - Walfadjri –07/6/2004
'Italy Arti e Spettacoli' – Il Paesaggio – Eternamente Attuale 24/5/2002
'Suggestioni dall'Oriente Art' Il Picolo Italy 17/05/2002

Magazine Interviews:
'Det är enkelt och fungerar' Helsinki Arbetarbladet, 7 Oct 2014, Finland
'Na minha memória tudo é doce' 5 June 2014, Macau Magazine, issue 38, page 102-108, Macau China
'Hyvaa energiaa' Avotakka Weekly Magazine, p. 46-47, Oct 2013, Helsinki, Finland
'Kun Canal Cheong Jagerroos maalaa' Devanni Interior Design Weekly Magazine, p. 46-52, May 2009, Helsinki Finland
Helsinki Missio April, 2009, Helsinki Finland
'Canal Cheong Jagerroos haluaa maalaata' Eeva Weekly Magazine, p. 52-56, May 2009, Helsinki Finland
Elina Pankkiiriliikkeen asiakaslehti 2008 Finland
'Taiteilija Canal Jagerroos perheen' Anna Magazine p.70-73, Jan 2008, Helsinki Finland
Door magazine May 2008 Helsinki Finland
Wochenblatt April 2008 Hamburg, Germany
Zenit Art and Culture interview March 2008 Sweden
Il Mercatino, Art & Culture / Alla 'Rettori Tribbio II' 11/5/2002 Italy
The Artist Month, DWA, Chinese Painting exhibition May/2004 Senegal
Radio Interviews:
Macau TDM Chinese Radio 'Pure Affection Exclusive Part I' 20/Feb/2014
Macau TDM Chinese Radio 'Pure Affection Exclusive Part II' 22/Feb/2014
Macau TDM Portuguese Radio 'Live' 21/Feb 2014
KSL radio 100,3 mhz 'Thirty Minutes Fame' 2009 Helsinki
French radio Nostagie 90.3 – Dak'Art Biennale Artist's 27/05/04 Culture
Published Book:
Selected Paintings of Canal Cheong Jagerroos
Total 328 pages
Published by Foundation Rui Cunha
Supported by Macau Government Instituto Cultural
Published Date: 2014 Ferbruary
Available in Paperback and Hardcover
TYPE / FRC Publications
SIZE / 28.7cm (L)*28.7cm(H)*3cm(W) for hardcover
28cm(L)*28cm(H)*2cm(W) for paperback
ISBN 978-99965-954-5-5 (paperback)
978-99965-954-6-2 (hardcover)
Curatorial
Curatorial Exhibition Program, Helsinki, Finland 2015
Fade In! Fade Out!
Under the Surface
Half – Truth
11 Dimension
Graduated Students of Art School Helsinki
Juried Judge for Junior Paintings Contest /American Academy / Dakar May 2005